79% of students stay off-campus and face many challenges, including 12-month leases, expensive rent and poor booking experiences.
Offer Them A Safe, Insured and Unique Platform With:
MEDIUM TO LONG-TERM HOMES
Ranging from a dorm room to an entire home. Rent weekly, monthly or annually.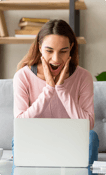 Affordable and furnished housing options from various hosts. Utilities included and zero deposit.
Instant and available booking options with a streamlined booking process and post-stay review system.
No more confusing, unsafe and broken links to Craigslist or other unverified vendors - just a safe and easy-to-use booking platform with fully-vetted and background-checked landlords and rentals around your university campus available to book today
Study abroad agencies and organizations around the world spend significant time and resources to help and secure housing for students.
ACCOMMODATION BOOKING PORTAL
4stay's co-branded solution transforms your housing page into a beautiful accommodation site, where students can find housing without leaving your site.
Let 4stay's stellar customer service help your students navigate their inquiries about housing. We are available 24/7 for your students.
TOP-NOTCH CUSTOMER SERVICE
Gain access to admin dashboard that gives you analytics about your student accommodation's operations, statistics and other valuable reports.
SOFTWARE WITH STATS AND ANALYTICS
All-in-One Web-Based Accommodation Platform
Our platform provides a smooth booking experience for your students, scholars interns.
All-in-one accommodation solution with furnished housing options in 160 countries.
Maximum profit by earning attractive commissions % for every placement and as long as they stay.
A reduction of housing stress housing by meeting the demand quickly & efficiently online.
Monthly analytics and reports about your students' housing preferences and your agency's impact.
Have a group of students or scholars who need accommodation during their stay abroad? The platform offers group options in specific destinations.
Dedication, enthusiasm and innovation is what I like about 4stay. #1 Housing management system platform in the market so far
I instantly booked my housing before arriving to United States
Terrific product, great customer service, and benefits that far exceed our expectations.
Associate Vice President, International Education & Sponsored Programs at NVCC
Program Manager at STP Housing Solution


Trusted by 100+ Study Abroad Agencies Worldwide